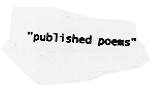 California Quarterly - Summer 2007
i am a zoo
i have eaten the lion.
devoured the hippo.
swallowed the giraffe.
bitten the head off a tiger.
snarfed the zebra.
ant it all took me
less than 10 minutes without
any blood to spare.
and as the crumbles of these
cookies crumbled down my shirt front,
over the mouth of my son,
and over my wife's teeth,
i realized that we are all the zoo
as the jungle burp awaits
the clink of the zookeeper's
final twist of the
cookie
key.